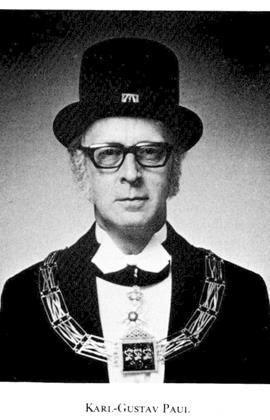 Karl-Gustav Paul
Född:

1919-12-10 – Hjärtums församling, Älvsborgs län

Död:

1990-08-22 – Umeå stadsförsamling, Västerbottens län


Biokemist, Universitetsrektor


Band 28 (1992-1994), sida 737.
Paul, Karl-Gustav, f 10 dec 1919 i Hjär-tum, Göt, d 22 aug 1990 i Umeå stadsförs. Föräldrar: folkskollär John Paul P o lär Anna Sofia Tunér. Studentex vid hal i Falun vt 38, inskr vid Kl, eo amanuens vid kem instit periodvis 1 sept 39 — 31 dec 41, MK 28 maj 41, amanuens 1 jan 44 —30 juni 45, vik laborator i kemi o farmaci 1 sept 46 — 28 febr 47, förste assistent vid Med Nobelinst:s biokem avd 1 mars 47 — 31 jan 52, extra laborator där 1 juli 52 — 30 juni 59, disp 26 maj 51, doc i biokemi 28 dec 51, ML 10 maj 54, MD 28 maj 54, laborator 5 juni 59, allt vid Kl, prof i med kemi vid med högsk i Umeå (från 64 Umeå univ:s med fak) 15 dec 61 (tilltr 1 maj 62)-85, rektor vid Umeå univ 69 — 73, v preses i Skytteanska samf i Umeå 81-89.

G 1) 30 dec 1947(-62) i Sthlm, Kungsh, m leg läk Ulla Maria Boijsen, f 27 sept 1925 där, ibid, dtr till kontorschefen Nils Fredrik B o Maria (Maja) Nordlander; 2) 27 juli 1963 i Sthlm, S:t Göran, m sjuksköterskan Kerstin Elin Gunvor Stenborg, f 25 sept 1928 i Jönköping, Sofia (enl fb för Barke-ryd, Jönk), d 27 febr 1990 i Umeå stadsförs, dtr till Elin Matilda Linnman.
P växte upp i Svärdsjö i Dalarna där föräldrarna arbetade som lärare. Uppväxten präglades av knappa omständigheter. Under sina medicinstudier visade P tidigt intresse för vetenskaplig verksamhet. Efter olika amanuensförordnanden knöts han som assistent till Medicinska Nobelinstitutets biokemiska avdelning. Tiden där kom att sätta djupa spår i hans vetenskapliga sätt att tänka och även styra hans val av forskningsområde. Institutet förestods av prof Hugo Theorell, som bla fick Nobelpriset i medicin 1955.

Det område som stod i centrum för P:s forskningsintresse gällde det molekylära underlaget för cellers förmåga att kunna omsätta molekylärt syre. Denna cellandning, som är nödvändig för att celler och organismer skall överleva, kräver både en fungerande transport av syrgas i organismen och enzymer som kan omsätta syret och transportera elektroner vid den biologiska oxidationen. Theorell var den förste som lyckades rena ett av de äggviteämnen som är involverat i den biologiska oxidationen, nämligen cytochrome c, ett mito-kondrieprotein. P deltog i denna forskning och kunde i sin doktorsavhandling (1951) karakterisera den aktiva ytan på det elekt-rontransporterande proteinet. Han visade också hur den järninnehållande aktiva ytans olika ligander såg ut.

P:s undersökningar resulterade i många upptäckter om olika oxidoreduktaser och hemeproteiner och deras förmåga att på olika sätt omsätta luftens syre. Ofta var hans sätt att närma sig olika frågeställningar fysi-kalkemiskt orienterade. Han tillämpade gärna bl a spektroskopi, fluorescens- och lu-minescensspektroskopi, nuklearmagnetiska resonanstekniker och protein-NMR-spekt-roskopi för att bearbeta sina forskningsproblem. Ett speciellt intresse ägnades enzymgruppen laktoperoxidaser, där P var världsledande. Under sina senare år publicerade han även flera arbeten inom detta område tillsammans med sin son Jan P.

Internationellt hade P ett nära samarbete med de mest kända forskarna inom sitt område. Han uppehöll bl a periodvis en professur i biokemi och biofysik vid Department of Biochemistry and Biophysics, School of Medicine, i Philadelphia, USA, i nära samarbete med prof Britton Chance. Flera av sina mest uppmärksammade vetenskapliga insatser gjorde han i samarbete med amerikanska forskare.

P var den förste professorn i medicinsk kemi vid Umeå universitet och under sin nästan 30 år långa verksamhet där byggde han upp institutionen. Under en valperiod var han också rektor för universitetet. Efter sin pensionering fortsatte P att vara forskningsmässigt aktiv. Även på den kemiska "stora" institutionen, som stod färdig 1967, satte han sin organisatoriska prägel.

P var en stor och originell profil vid Umeå universitet. Med sin integritet och humanistiska livssyn utgjorde han både som forskare och medmänniska en förebild för många kolleger. Vid sidan av de vetenskapliga aktiviteterna, som tilldrog sig hans största intresse, var P kulturellt intresserad. Han var också språkbegåvad och gav i utlåtanden, vetenskapliga arbeten och skrivelser prov på skarp formuleringskonst.
Torgny Stigbrand
Sök i Nationella Arkivdatabasen
Tryckta arbeten: A colorimetrical carbon--monoxide-hemoglobin method of determination for clinical use (Acta physiologica Scandinavica, vol. 4, Sthlm 1942, s 285-292; tills med H Theorell). — Dissociation constants and their relations to the activity in peroxidases. [Rubr.] [Sthlm & Upps, tr] Upps 1944. 23 s. (Tills med dens; VA, Arkiv för kemi, mineralogi och geologi, bd 18 A, no. 12.) — Oxidation-reduction potential of cy-tochrome c (Archives of biochemistry, vol 12, New York, N. Y., 1947, s 441 -450). - Heme--linked groups of cytochrome c. Akad avh [Kl]. [Sthlm, tr] Hfors 1951. 13 s + 5 särtr: föreg arb samt: The stability of cytochrome c at extreme pH values (Acta chemica Scandinavica, vol 2, 1948, Khvn, s 430 — 439); The splitting with silver salts of the cysteine-porphyrin bonds in cytochrome c (ibid, 4, 1950, s 239-244); The porphyrin com-ponent of cytochrome c and its linkage to the protein (ibid, 5, 1951, s 389-405); The iron--protein bonds in cytochrome c (ibid, s 379 — 388). — Den biologiska syntesen av protohem (Medicinska föreningens tidskrift, årg 30, 1952, Sthlm, 4:o, s 10 — 16). — The effect of some cobalt porphyrins in the microbiological assay of vitamin B12 (Experimental cell research, vol 3, New York, N. Y. (tr Upps) 1952, s 489-491; tills med Z.,G. Bånhidi o A. G. M. Sjöström). — The iron-containing enzymes, A. Cytochromes (The enzymes: chemistry and mechanism of action, ed by J B Sumner, K Myrbäck, vol 2, New York 1951-52, s 357-396). - Localization of porphyrins in bone tissue in a case of porphyria cuta-na tärda (Journal of clinical pathology, vol 6, 1953, London, s 135 — 139; tills med A. Engström o B. Engfeldt). — Några nya donatorsubstanser till peroxidas-peroxid-komplexer (Den 8. nordiske kjemikermote Oslo 14. — 17. juni 1953, Beret-ning og foredrag, Oslo 1954, s 260). — The assay of hydrogen peroxide in small quantities with horse radish peroxidase as catalyst (Acta physiolo-gica Scandinavica, vol 32, Sthlm 1954, s 314 — 319; tills med Y Avi-Dor o E Cutolo). - The effect of BAL on a case of 'cutaneous porphyria' (Acta dermato-venereologica, vol. 34, Sthlm (tr Lund) 1954, s 403-408; tills med Nils Thyres-son). — Hugo Theorell, nobelpristagare i fysiologi o medicin 1955 (Svensk kemisk tidskrift, årg 67, 1955, Sthlm, s 551-556). - The treatment of photophobia in two cases of "cutaneous porphyria" (Acta ophthalmologica, vol. 33, Khvn 1955, s 247-251; tills med H. Berglund o T. Kornerup). — Cytochrome c (mammals) (Methods in enzymo-logy, ed by S P. Colowick o N O. Kaplan, vol 2, New York 1955, s 749-758). - Studies on blood catalase (Proceedings of the Third international congress of biochemistry Brussels 1955, New York 1956, 4:o, s 207; tills med L. Engstedt). -The photooxidation of porphyrins (The eleventh international congress of dermatology Stockholm 1957, Proceedings. Ed by S Hellerström m fl, vol 3. Symposia 1-16, Sthlm 1960, 4:o, s 512-514). — Heme compounds in enzymic catalysis (The enzymes, 2. ed - completely revised, ed by P D. Boyer, H Lardy, K Myrbäck, vol 4, New York and London 1960, s 277-328). - Mammalian cytochrome c (ibid, 8, 1963, s 97-112; tills med S. Paléus). - Peroxidases (ibid, s 227-274). - Investigations on the uterine peroxidase (Reports from the third Scandinavian conference on cell research 1962, Khvn [1962?], s 38 f; tills med Sten Jakobsson). — Några synpunkter på de eosinofila granulocyternas biologi. Umeå 1963. 7 s, 1 pl. (Tills med S Falkmer; även: Inbjudan till den offentliga högtidlighet vid Medicinska högskolan i Umeå o Tandläkarhögskolan i Umeå varvid nedannämnda professorer installeras ..., Umeå 1963 [Bilaga].) — Some molar absorption coeffi-cients of haemoglobin derivatives (Bibliotheca haematologica, Additamentum ad Acta haemato- logica ..., Fasc 18. Erythrocytomctric methods and their standardization. Transactions of the Standardizing committee and Proceedings of Symposium XVIII of the Ninth congress of the European Society of haematology, Lisbon, 31st Aug 1963, Basel, New York 1964, s 66 f). -Studies on hormonal control of eosinophils in the utcrus of rodents (Acta pathologica et microbio-logica Scandinavica, vol 66, [omsl,] Khvn 1966, s 269; tills med A. B. Baker o F. Bergman). — Heavy metals in the granules of cosinophilic gra-nulocytes (Scandinavian journal of haematology, vol 4, 1967, Khvn, s 371-379; tills med E. Pihl, G. T. Gustafson, B. Josefsson). — Medicinsk kemi i nordligt centrum (Modern kemi, 1969, Helsingborg, 4:o, nr 11, s 27 f). — Något om kopparproteiner (Ronden, tidskr från KABI, årg 2, 1969, Sthlm, 4:o, s 141 f; tills med T Stigbrand). — Iron mctabolism in the rat. An experiment in biochc-mistry (Journal of chemical education, vol 47, 1970, [Easton, Penn,] 4:o, s 722-724; d:o). -Avdelningen för medicinsk kemi (Kemi t norr [rubr; omsl:] Inför 14:de nordiska kemistmötet i Umeå den 18-22 juni 1971, u o [1971], 4:o, s 7 f; d:o). — The effects of various oestrogens on the eosinofil granulocytes in the mouse and rat endo-metnum (Wenner-Grcn center, International symposium series, vol 18. Structure and function of oxidation-reduetion enzymes, Proceedings of the Wenner-Gren symposium held at the Wenner-Gren center, Stockholm, 23-27 Aug 1970; ed by Å[ke] Åkesson o A. Ehrenberg, Oxford ... 1972, s 215-218; tills med A. P. Baker mfl). - Opening address (Kungl. Skytteanska samfundets handlingar, Acta Regiae societatis Skytteanae no 13 -1975. The Nordic languages and modern linguis-tics, 2.Proceedings of the Second international conference of Nordic and general linguistics University of Umeå June 14-19, 1973. Ed by K-H Dahlstedt, Sthlm 1975, s 36-39). - Prostaglan-dins. 1. Direct synthesis of optically active Corey--intermediate from (S)-(—)-malic acid (Journal of the American Chemical society, vol 98, 1976, Easton, Pa, 4:o, s 1285 f; tills med Francis Johnson). — Circular dichroism studies on native and artifi-cial horseradish peroxidases (The Journal of bi-ological chemistry, vol 252, 1977, [Baltimore, Md,] 4:o, s 8222-28; tills med P[er]-I[ngvar] Ohlsson, I Sjöholm). — The formation of horseradish peroxidase compound I (Frontiers of bi-ological energetics, ed by P. L Dutton, J Leigh, A Scarpa, vol 1—2. Electrons to tissues, Papers presented at the International symposium "Frontiers ...", University of Pennsylvania July 20 — 22, 1978, New York ... 1978, s 941 - 946; tills med P-I Ohlsson, S Nyberg, Nils-Olof Bengtsson). — Enhancement of the chemiluminescence of per-fused rat liver and of isolated mitochondria and microsomes by hydroperoxides (ibid, s 975 — 984; tills med A Boveris m fl). — Liganding properties of lactoperoxidase (Developments in biochemist-ry, 13. Biochemistry, biophysics and regulation of cytochrome P 450. Proceedings of the Third European meeting on cytochrome P-450 held in Saltsjöbaden, Sweden, June 16 — 19, 1980. Ed: Jan-Åke Gustafsson). — Inertness of horseradish peroxidase to 2,4-dichlorophenoxyacetic acid (Physiologia plantarum, vol. 49, 1980, [Khvn, tr] Odense, 4:o, s 185-187; tills med B Öhrman). -The assay of peroxidases by means of dicarboxidi-ne on enzyme-linked immunosorbent assay level (Analytical biochemistry, vol 124, New York & London 1982, 4:o, s 102-107; tills med P. I. Ohlsson o N. A. Jönsson). — The spontaneous release of heme from hemeproteins (Develop-ments in biochemistry, 23. Cytochrome P-450, biochemistry, biophysics and environmental im-plications. Proceedings of the 4th international conference on cytochrome P-450 held in Kuopio, Finland, May 31 - June 3, 1982. Ed: E Hietanen, M Laitinen, O Hänninen, Amsterdam, New York, Oxford 1982, s 601-605; tills med M L. Smith o P-I Ohlsson). — Aspects on the determination of the oxidation-reduction potential of lactopero-xidase (ibid, s 805-510; tills med P-I Ohlsson). — Den biologiska döden (Skytteanska samfundets symposieserie, A, 1. [N-A Bringéus m fl,] Vår hållning till döden, Bjästa 1983, tv-8:o, s 24-28). — The mechanism of spontaneous heme release from horserådish peroxidase isoenzyme A2 (Bio-medica biochimica acta, vol 42, 1983, Berlin, s 805-811; tills med M. L. Smith, K Hjortsberg, P.-I. Ohlsson). — X-ray absorption studies of in-termediates in peroxidase activity (Archives of biochemistry and biophysics, vol 235, New York 1984, s 596-611; tills med B. Chance m fl). -Some structural and functional properties of lac-toperoxidasc (Protides of the biological tluids, Proceedings of the thirty-second colloquium, 1984. Ed by H. Peetcrs, Oxford ... 1984, s 125-127; tills med P. 1. Ohlsson & M. L. Smith). -Deriverande spektrofotometri (Kemisk tidskrift, årg 97, 1985, Sthlm, 4:o, nr 6, s 56-58; tills med P-I Ohlsson). — Lactoperoxidase at phase boun-daries (Oral interfacial reactions of bone, soft tissuc and saliva, proceedings of a workshop, Nov 9-11 1984, Marstrand, Sweden, ed by P.-O. Glantz, S. A. Leach and T. Ericson, Oxford 1985, s 25 — 32). — Melting points of 2,4-substituted porphyrin dimethyl esters (VA, Chemica scripta, an international journal on progress in chemistry and biochemistry, vol. 25, 1985, Sthlm, 4:o, s 177-181; tills med J. Paul & C. Holmberg). -The chemical structure of lactoperoxidase (Im-munology series, v. 27. The lactoperoxidase system: chemistry and biological significance. Ed by K M. Pruitt and J O. Tenovuo, New York & Basel (tr i USA) 1985, s 15-29; tills med P-I Ohlsson). — A unified concept of electronic perturbations of porphyrins (Revista portuguesa de quimica, vol. 27, 1985 Lisboa, 4:o, s 274 f; tills med J. Paul). — Peroxidases: historical background (Mo-lecular and physiological aspects of plant peroxidase, H. Greppin, C. Penel, T. Gaspar, eds, Geneve 1986 [duplic], s 1 — 14). — The formation of peroxidase compound I with alkylhydro-pero-xides - multiple regression or pattern recognition analysis? (ibid, s 25 — 30; tills med P. I. Ohlsson o S. Wold). — Kinetic, spectroscopic, and structural (extended X-ray absorption fine structure) studies on the type 1 blue copper protein umecy-anin (Journal of the Chemical society, Dalton transactions, 1986, London, 4:o, s 2063 — 68, tills med S K. Chapman mfl). — Peroxidases: past and present (Journal of oral pathology, vol. 16, 1987, Khvn, 4:o, s 409 — 411). — Peroxidase-catalyzed oxidation of chlorophenols to polychlorinated di-benzo-/j-dioxins and dibenzofurans (Archives of environmental contamination and toxicology, vol 19, 1990, New York, 4:o, s 930-938; tills med L G. Öberg m fl). — Irreversible inactivation of peroxidases by peroxidatic oxidation produets from chlorophenols and other phenolic substra-tes. Umeå [1990]. 40 s. (Tills med L Öberg; Umeå university medical dissertations, ed K-G Paul, New series no 265. L Öberg, Transformation of chloropenols by peroxidases, Umeå 1990, Paper 5.) — Bidrag i bl a: (Svenska) Läkartidningen, 1943, 8:o, 1979, 1982, 4:o, Sthlm, Acta chemica Scandinavica, 1948-60, 1964-65, 1970, o [ser] B, 1976, 1978-79, 1982-86, Khvn, Scandinavian journal of clinical & laboratory investigation, 1953, 1958, 1960, 1962, 1965, 1967, Oslo, Bio-chimica et physica acta, vol 12, 221, 315, 350, 722, 832 o 842, Amsterdam 1953-85, Acta en-docrinologica, vol 28-29, 1958, 35, 1960, 54 o 56, 1967, 69, 1972, Khvn, Nordisk medicin, bd 62, 1959, 75, 1966, 87, 1972, Sthlm, 4:o, Experi-entia, 1959-60, 1966, 1983, Basel, 4:o, FEBS Letters for the rapid publication of short reports in biochemistry, biophysics and molecular biolo-gy, vol 17, 1971,51, 1975, 110, 1980, 163, 1983, 169, 1984, 202, 1986, Amsterdam, 4:o, Biochemistry, a bimonthly publ of the American Chemical society, vol 15, 1976, 18, 1979, 23, 1984, 24, 1985, Easton, Penn, 4:o, Inorganica chimica acta, 79, 1983, Padova; vissa titlar se Umeå universitet, vetenskapliga publikationer 1970-1974(—1985-1987), Umeå 1975 — 89, några av dessa o a uppgivna tidskr- o kongressbidr ej identifierade.
Källor o litt: ED:s konseljakter 15 dec 1961, nr 2, RA.

Väd. - Nekr:er över P i DN 27 aug o i SvD 25 aug 1990.
Bäst är förstås om man kan göra en hänvisning till den tryckta versionen. Om man vill hänvisa till webbversionen måste man göra en länk till aktuell sida så att det är tydligt att det är webbversionen man hänvisar till. Ett exempel på en hänvisning till denna artikeln är:
Karl-Gustav Paul, https://sok.riksarkivet.se/sbl/artikel/8056, Svenskt biografiskt lexikon (art av Torgny Stigbrand), hämtad 2022-10-07.
Du kan också hänvisa till den här artikeln med hjälp av dess unika URN-nummer som är: urn:sbl:8056
URN står för Uniform Resource Name och är en logisk identifierare för denna artikel, till skillnad från dess länk, som är en fysisk identifierare. Det betyder att en hänvisning till artikelns URN alltid kommer att vara giltig, oavsett framtida förändringar av denna webbsida.
En sådan hänvisning kan se ut på följande sätt:
Karl-Gustav Paul, urn:sbl:8056, Svenskt biografiskt lexikon (art av Torgny Stigbrand), hämtad 2022-10-07.
Rättelser
Skicka gärna in en rättelse på denna artikel om du hittar något fel. Observera dock att endast regelrätta faktafel samt inläsningsfel korrigeras. Några strykningar/tillägg eller andra ändringar i databasen kan inte göras, då den endast är en kopia av originalet (den tryckta utgåvan) och därför måste spegla detta.